Description
Mindbuster Palm Pro.
The first Mindbuster was released in 2008, 14 Years ago.
A folder, A4 size, using a mini PC as a receiver.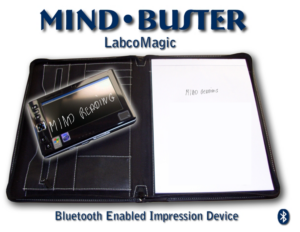 ---
The last model, Mindbuster Palm Pro, is the smallest Mindbuster,  in a leather folder, we have ever made, 138 x 87mm
Uses a dedicated 2.4″ LCD receiver.
Real-time transmission to iPhone or iPad, through the LCD Receiver.
Using the Mindbuster App Ver.3.0 with a lot of features.
Pre-show mode. All drawings are saved in the Mindbuster.
Can be transmitted to the LCD receiver when you need them.
The pad has wireless charging.
The pad has a hidden on/off switch
Easy to use.
The Mindbuster Palm Pro includes:
The leather folder with electronics, 138 x 87 x 12 mm
The 2.4″ LCD Receiver, with normal battery, 89 x 63 x 18 mm, or with big battery 89 x 63 x 23 mm
A special pen of your choice.
Wireless charger dock
International USB charger.
Two USB charger cables.
One year of guarantee.
Specifications:
Range: 20-25 meters
Pad battery time: 7-8 hours.
LCD Receiver battery time, normal: 4-5 hours
LCD Receiver battery time, big: 8-9 hours